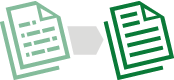 Languages
We translate your documents and files to Irish and/or to all other official languages of the European Union: Bulgarian, Croatian, Czech, Danish, Dutch, English, Estonian, Finnish, French, German, Greek, Hungarian, Italian, Latvian, Lithuanian, Maltese, Polish, Portuguese, Romanian, Slovak, Slovenian, Spanish, Swedish as well as to Arabic, Chinese, Japanese, Russian. Minority languages are also catered for.
Quality Control
Our dedicated, experienced team of linguists ensures consistently high translation quality. Your translated files are quality checked by independent senior revisers under quality standards ISO9001:2015 and 17100:2015, and delivered to you or uploaded to your website in any language. Our certified translations are accepted by authorities in numerous geographical regions.
Benefits
You will receive ready-to-publish documents for multilingual audiences or see your website updated with the translated content through the API. In partnership with Context language professionals, supported by powerful translation technology and customised workflows, you will enjoy linguistic excellence across your products, enhancing your branding and corporate image.
Context
has provided quality translations
to customers nationally and internationally
for 30 years.
We have a proven track record
of translating high volumes of work,
to agreed time lines
and within short time frames.
In order to meet the increased complexity and volume of translation services for a wide range of corporate and public sector clients, we designed tailor made processes and tool configurations. We established a solid Quality Management System supported by our own Process Management platform ProVision and have held our ISO:9001 accreditation since 2003. Each file is subjected to a number of quality checks during translation, editing and proof reading. We place a strong emphasis on continuous improvement in every aspect of our work and offer targeted professional development workshops to staff and contracted linguists. All of these elements combine to ensure that we consistently provide translations of the highest quality.
---
Direct translation of your website
A main benefit of the API: automates the submission contentand return of translated content.
Direct translation
of your website