International Meetings
Interpreters
Simultaneous live interpretation in up to 30 languages for any meeting, conference or event. We work with a rich pool of outstanding interpreters throughout Europe. Catering beyond Europe, and for your conference calls and virtual meetings, we offer web-based interpreting solutions – please see the brochure below for technical details.
A strong specialisation is European Works Council meetings which we support from their inception as Special Negotiating Bodies to their regular and extraordinary meetings. We have established a comprehensive infrastructure in this field, including a pool of trusted linguists, technical equipment providers, minute takers, and suitable venues across Europe and the UK.
Technical Solutions
High performing technical equipment including headphones and microphones for the participants, sound-proof booths for the interpreters and audio-visual components for remote speakers to see and be seen will be made available at your meeting venue as required. Based on your vision of the meeting, we will provide the equipment needed for:
Traditional face-to-face meetings: allowing the most comprehensive exchange of information with the lowest risk of technical issues
Online video calls with simultaneous interpretation: popular for short information sharing events
Hybrid meetings: participants working together in a physical conference venue with some remote speakers joining for presentations or Q&A
Online Meetings
Your online conference call or web meeting can be interpreted simultaneously in the languages of your choice. All necessary web-meeting features will be tailored to your needs. A dedicated Context team will:
Identify the best web-platform for your requirements
Perform essential technical checks with key speakers
Provide induction training and live technical support
During your live event, all speakers and participants wear a headset which ensures excellent audio quality for successful communication. The Context team of experienced interpreters and technical staff is available to support and advise, to afford meeting attendees a seamless listening and speaking experience across all languages.
Hybrid Meetings
Hybrid events integrate traditional face-to-face meetings with remote speakers; the majority of participants gather in a physical meeting room at an agreed location, while some key speakers may not be available to travel. Benefits of a hybrid configuration include:
Reduced travel costs and carbon footprint
Direct and personal contact for onsite participants
Accommodating last minute travel issues
Context offers mixed solutions for all types of events and in any possible configuration. Meeting platforms are integrated with the hardware system at the meeting venue so communication onsite and offsite flows smoothly. Remote and onsite participants interact seamlessly, sharing presentations and verbal contributions in their preferred languages.

Behind the Scenes Support
You can draw on our expertise with venues at key locations across Europe which has been built over ten years with first-hand experience. Our additional services provided by a strong support team include:
Venue finding and contract negotiations
Compiling your presentations
Minute taking and executive summary of proceedings
Our liaison person on site will help you manage any last-minute requirements and changes to ensure a smooth and stress-free meeting experience at over 100 tried and tested venues in top European locations.
Benefits of Our International Meeting Services
Choice of over 2000
interpreters globally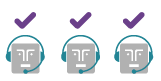 Select pool of outstanding
 interpreters for specialised meetings
Dedicated project management team with a wealth of knowledge in interpreted events
Solution driven to achieve the best
meeting/event experience for you
Focus on quality
of service
ISO 9001:2015 and
ISO 17100:2015 certified
If you are a current Context contract client
Please log on to your client dashboard and place the request there. Thank you.