Our mission is to facilitate successful communication across language barriers and cultural divides, to deliver excellence in language services, and to empower our clients to enhance their success in the market place. As a global language service provider with a reputation for innovative solutions and thought-leading processes, Context can look back on 30 years of successful language service history.
Continuous adaptation to evolving market needs and challenges and robust technological processes ensure that Context offers continuity of service to its clients for the long term. International corporations, Government organisations and the medical device industry are prime users of the service.
Clients benefit from our technological innovation, automation and systems integration drive.
Working with us is made easy by the electronic Context back-office with its integrated client and supplier web applications providing a seamless online environment, from booking to quotation, to service delivery and invoicing.
We deliver a time efficient multi-lingual translation process for dynamic websites through the deep integration of content management systems with custom made application programming interfaces. Web content is handed off, processed and published with a few mouse clicks.
Our interpreting services are supported by high calibre specialised equipment and competent technicians. Innovative solutions for telephone and video interpreting are offered for virtual meetings.
To deliver the best possible language solutions to you, we have a strong team of project managers in place who are available to
Advise you on translation options, file formats, turnaround times, quality assurance or
Interpreting modes, technical solutions and venue options for your meeting.
They deliver an outstanding end-to-end service to you exceeding your expectations.
As part of a global team, Context staff collaborates with professionals from a variety of disciplines: linguists, technical writers, software architects, audio-visual engineers, event managers, and design and print partners. We respect and support the many contractors working with us world-wide, and motivate them to give their best – just as we invest our best efforts to deliver outstanding results for our clients.
Context has been ISO 9001 certified since 2003, its quality system is matured and deeply embedded. Everyone at Context takes responsibility for delivering language services according to documented, repeatable processes based on transparent criteria and client feedback.
The quality control vis-à-vis our suppliers rests on the three pillars of (1) meticulous recruitment, (2) targeted training and upskilling, (3) dynamic performance rating for each completed project.
We are also accredited under the international translation standard ISO 17100:2015 which is based on the 4-eye principle involving a tandem of highly qualified and experienced translator and reviser/editor who takes all final linguistic decisions. The proof reader subsequently performs quality checks and enhances the overall appearance of the translated material to mirror that of the original content.
Any quality issues arising are recorded scrupulously and resolved in a timely fashion. They feed into a key reportable quality metric of less than 1% complaints and issues, which the company has met consistently across all language services.
Martin Beuster
Director
Ulrike Fuehrer
Head of Interpreting
Conference Interpreter (VKD)
Ania Wróbel
Interpreting Project Manager
Laura Crumlish
Translation Project Manager
Damian Killeen
Chief Technical Officer
Magda Ryzewska
Interpreting Project Manager
Emma Beuster
Meeting Solutions Manager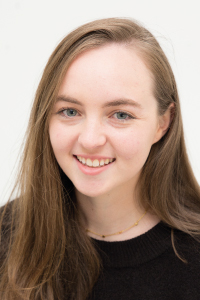 Jessica Doherty
Translation Project Manager
Pascal Euteneuer
Interpreting Project Manager
Gosia Rykowska
Interpreting Project Manager
Daniel Beuster
Translation Project Manager
Kate Dooley
Translation Project Manager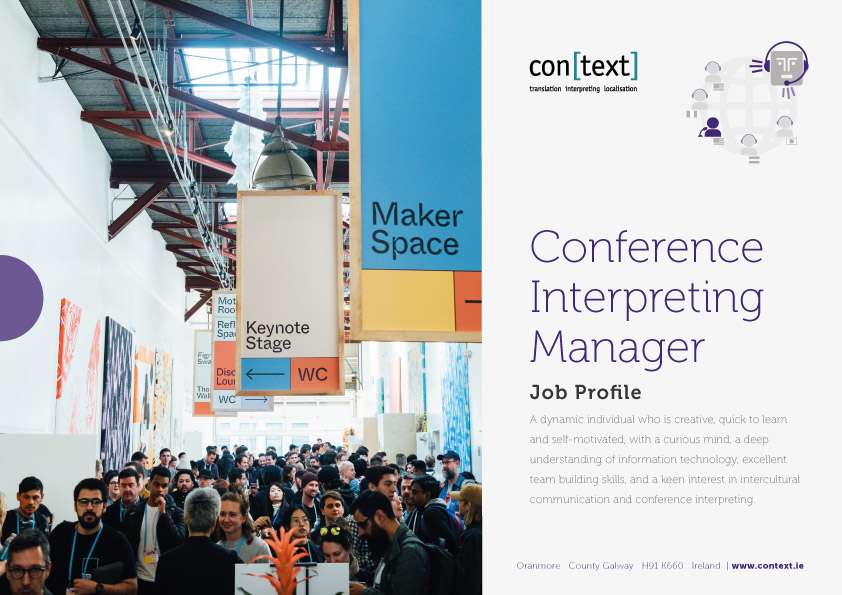 Conference Interpreting Manager
A dynamic individual who is creative, quick to learnand self-motivated, with a curious mind, a deep understanding of information technology, excellent team building skills, and a keen interest in intercultural communication and conference interpreting.
Download CIM Profile
Accounts and Administration Officer
A self motivated problem solver with excellent organisational skills and a sharp eye for detail who is coming from a Finance or Accounting background, comfortable working with ICT systems and concerned with accuracy.
Download AAO Profile
Chief Executive Officer
To thrive as Context CEO, you will have demonstrated already that you are an inspiring leader and a prudent manager. You have a business mind-set and can see the "big picture", and will understand the potential in our combined service portfolios.
Download CEO Profile
---
Translation Project Manager
A tech-savvy dynamic individual, independent, self-motivated and quick to learn, with a keen interest in the language services industry. Well positioned to follow complex instructions and interlinked processes, to take initiative and conscientiously apply agreed procedures.
Download TPM Profile
Meeting Support Manager
A resourceful individual who is familiar with virtual and on-site conference hosting, remote and in situ live interpreting and with the dynamics of corporate meetings; a resilient and responsive team player, adept at intercultural communication and comfortable in a key support role.
DOWNLOAD MSM PROFILE
Freelance Work with Context
is a rewarding experience.
Translators
Context has been awarded substantial and prestigious Irish translation contracts by the European Commission and the European Central Bank. Due to a combination of smart work flow processes, excellent freelance translators and revisers and diligent project management, our Irish translation work submitted to the institutions of the European Union and of the Irish public sector has received impressively high ratings.
To ensure consistently high quality of translated text and timely delivery of high volumes well into the future, we wish to reach out and extend our team of regular freelance linguists with a proven track record of high-level work in the Irish language.
If you have relevant translation and/or revision/proof reading experience and are interested to join our existing team, we would love to meet you.
Relevant skills and competences:
Irish language qualification
CAT Tool experience – memoQ, Trados or other
Research competence
Language industry experience
Familiarity with translation and revision work flows
Submit an application
Interpreters
Context has a proud track record of providing high quality, reliable, accurate and prompt interpreting services to the public sector across Ireland. Non-English speaking residents can access public services in Ireland through the language support of competent interpreters.
Major users include: Hospitals, Courts, An Garda Síochána, Social Work and Refugee organisations.
We are looking to extend our reach and include additional freelance interpreters of all languages. The free-lance positions can be combined with study and/or part time employment. The working hours depend on the demand for your language and can be flexible to fit your schedule.
If you have a high degree of language proficiency in English and another language, we would love to hear from you! Training in the specifics of public service interpreting will be provided for you.

Relevant skills and competences:
Excellent communication and interpersonal skills
Intercultural sensitivity
Information acquisition skills
The ability to work under pressure
Well developed linguistic and interpreting skills
Submit an application
Context offers competitive employee benefits to its full-time, part-time, and temporary employees, together with a creative and respectful work environment. Context approves freelance linguists against ISO 9001:2015 accredited selection criteria.
Our strategic partners share our commitment to excellence. Specialists of various fields contribute their talent and integrity to build the language resources that benefit our clients.
Context recruits qualified translators and interpreters of all languages and locations.
Submit an application