Qualified Irish language translators to support us in delivering large volumes of text to our contract clients.
Experienced Community Interpreters to join us in facilitating access to public services in Ireland for all language communities.
Please apply here
Your documents will be translated to the highest international quality standard. Your website will be published and updated in multiple languages to enhance your global reach.
Seamless communication at your international meetings, delivered by talented conference interpreters at the right venue with the right technology. Our skills afford you peace of mind.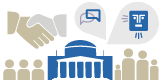 Context facilitates communication between the public sector in Ireland and new communities with low English proficiency. We assist where trust, integrity and reliability matter most.